Honda Accord Maintenance Schedule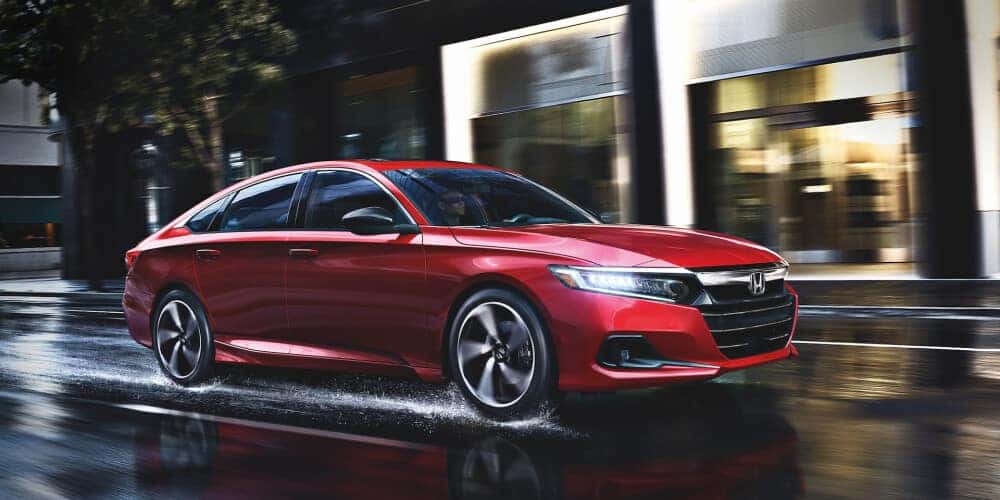 ---
The best way to ensure that your Honda Accord continues to run safely and smoothly on Branford-area roads is to stay up to date with all scheduled maintenance. From routine oil changes and tire rotations to battery and brake inspections, the Honda Accord service schedule covers everything required to keep your vehicle in top condition. Learn more about what's included in the Honda Accord maintenance schedule from the experts in the Westbrook Honda Service Center.
What is the Honda Accord Service Schedule?
Starting at 7,500 miles and going all the way up to 120,000 miles, the Honda Accord maintenance schedule is designed to help you protect your investment and enjoy everything this sophisticated Honda sedan has to offer for years to come. Review the services required at the following mileage intervals, and if you find that your Accord is due for its next maintenance service, schedule an appointment at our Service Center near New London. We can also help you understand your dashboard warning lights.
7,500 – 22,500 – 37,500 – 52,500 – 67,500 – 82,500 miles

Oil and filter change
Fluids check and replacement
Tire rotation
Tire tread and pressure inspection
Brake inspection
Throttle linkage lubrication

15,000 – 45,000 – 75,000 – 105,000 miles

Chassis and hinges lubrication
Oil drain plug and gasket replacement
Windshield wiper replacement
Spark plugs replacement (as needed)
Tire rotation and wheel balancing
Transmission service
Undercarriage inspection
Shocks and strut check
Clutch pedal check and adjustment
A/C and heater inspection
Air conditioning filter replacement
Park brake inspection
Drive shaft re-torque
Headlights, interior lamps, and exterior lamps check
Steering systems, steering gear box, and steering wheel inspection
Fuel system inspection
Differential oil check
Brake linings and hoses check
Road test and quality control

30,000 – 60,000 – 90,000 – 120,000 miles

Fuel tank cap gasket, fuel lines, and connections check
PCV valve service
Transmission service
Battery inspection and cables and terminals cleaning
Differential oil replacement
Transfer case oil check
Propeller shaft lubrication
Air elements inspection
Exterior and interior lamps check
Wheel bearings lubrication
Propeller shaft flex coupling inspection
Road test and quality control
Get Professional Accord Service Today at Westbrook Honda
You can count on the certified technicians at Westbrook Honda to take care of all the required services included in your Honda Accord maintenance schedule. Our state-of-the-art Service Center is outfitted with the most advanced auto repair technologies and equipment, and our Parts Center is well-stocked with genuine Honda OEM parts. You'll find that our parts and service prices are among the most competitive in the Middletown area, and we also offer rotating service specials and coupons that can help you save even more. Please contact our Service Center if you have any questions or would like more information.
More from Westbrook Honda
Saturday, September 23, 2023 is National Seat Check Saturday, started by The National Highway Safety Administration (NHTSA). The observance promotes child safety and increases awareness about seat check protocols in child safety seats when traveling. Correctly installed car seats can reduce the risk of fatal injury in a car crash by 71% for infants, and 54% for toddlers. …

Lorensen Auto Group announces they are the exclusive automotive sponsor of NBC Connecticut's Clear The Shelters campaign during the month of August 2023. Clear The Shelters, NBCUniversal Local's nationwide pet adoption and donation campaign has helped more than 860,000 pets find new homes since 2015. WVIT, along with other NBC and Telemundo owned and affiliated…

With Canadian wildfire smoke lingering over much of the region, health officials are urging New Englanders to take precautions. Keeping your windows closed, limiting outdoor activities, and wearing an N95 mask help mitigate any health risks, but there's another measure not often mentioned. Changing your vehicle's cabin air filter protects everyone inside your vehicle from…